Wholesale Scarf Distributor for Retail Stores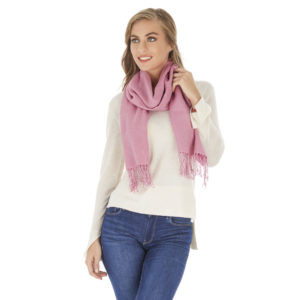 Scarves are one of the most versatile accessories for women and men. That is likely why they're so popular in online and brick and mortar retail stores. A scarf adds that pop of color to a neutral outfit. It gives a simple way to express your personality without overthinking things. A scarf wardrobe is a smart and overall inexpensive investment that will last for many years and carry the wearer through all seasons of the year. Scarves also add flair in a comfortable, non-fussy way to the dress up or down look of jeans and tee shirts and enhance the elegance of the little black dress as well.
Interested in Selling Retail Scarves and Shawls?
When thinking of building an inventory of scarves for your retail store, think of Tekkell. Tekkell is a wholesale scarf distributor for retail stores. Tekkell manufactures several lines of textile products in its company-owned plant in Turkey. It's known for its excellent quality of material and craftsmanship. Tekkell's brands are designed in the fashion center of Miami in the United States, giving the products their signature fashion sense married with their European deluxe quality of workmanship.
Options: Custom or Pre-Designed
Tekkell's Shawlbliss line of scarves and shawls will not disappoint the most discriminating retailer. The Shawlbliss line of elegantly designed scarves are woven of silky, 100% Pashmina and are just as easily worn as a shawl. The versatility extends to fashioning as a headscarf. Wearing a Shawlbliss scarf allows the wearer many options. The variety of colors and array of design patterns are sure to please most customers. Designs of plain, polka dots, leopard print, and glittering colors are delightful. Yet, as the retailer, you may choose to completely customize your own private label with Tekkell.
This premium quality fashion accessory is available to the eCommerce or brick and mortar store retailer at a reduced unit cost with bulk purchasing. Your shop can create your own designs incorporating your unique brand logo to completely customize your private label with Tekkell Shawbliss scarves and shawls. The creative possibilities are expansive and exciting. It is possible to cater to your niche of clients in a way unique to your own business.
Fast Shipping
The convenience of buying wholesale scarves and shawls from Tekkell is amplified by our ready-to-ship products that's available at our Miami warehouse for overseas shipping. With a low minimum quantity necessary for a bulk ordering, you can have your order shipped to you in no time. To place a custom order for your private label, a minimum of 14 business days are needed for your unique creation to be on its way to you! Tekkell Shawbliss consultants are on call to assist with your order whether it's from stock or customized.
Call to speak to one of our Tekkell consultants today! We can answer all of your questions and discuss your custom white label order that unique to you. Contact us online or call us directly at 305-767-4279.
RELATED POSTS