Wholesale Custom Peshtemal Towels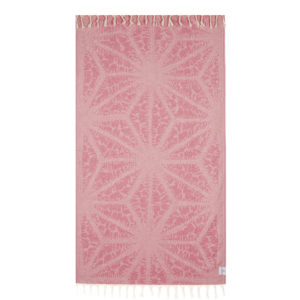 If you've never used a traditional Turkish peshtemal towel before, then, once you do, you may never want to use a conventional terrycloth towel again. These LushRobe towels are made from 100% Turkish cotton and are hand-woven in Istanbul, Turkey.
Tekkell supplies LushRobe peshtemal towels in a variety of customizable designs and color options. The towels are a popular towel option for upscale hospitality locations, like luxury hotels and spas, but peshtemal towels can also be used in the home for various purposes.
Read on to find out more about why people love peshtemal towels so much. Then, check out Tekkells' entire offering of LushRobe peshtemal towels and consider trying one, or more, for yourself!
Why Peshtemal is Better than Terrycloth
Unfortunately, most people have had a bad experience with a poorly made towel before—have you? Maybe you stepped out of the shower or pool and dried off with your "quality-made" towel only to realize that it left cotton-residue all over your damp body; or perhaps, after a few months of frequent use, your "luxurious" towel(s) started to produce an embarrassing moldy aroma.
Whatever your experiences with towels are, you can say goodbye to every unfortunate experience when you put your money towards high-quality peshtemal towels. Unlike terrycloth towels, peshtemal towels are fabricated from 100% hand-woven Turkish cotton. Peshtemal towels absorb water just as well as terrycloth towels, but they dry much quicker and are more fashionable. Also, peshtemal towels don't take up a ton of space, which makes them easy to tote around.
Peshtemal Towels Made For Every Occasion
Traditional peshtemal Turkish towels are famous for being used in the Turkish baths throughout Istanbul and the rest of the country; however, today, peshtemal towels can be found in hotels and spas, on beaches, and in homes throughout the world.
Just looking at Tekkell's large selection of peshtemal towel prints and color options, it's easy to see where these traditional Turkish towels might fit in nicely in your home or life. For example, LushRobe's American Flag Turkish Cotton Heavyweight Towel would be a great accessory for a beach day or a boat ride on the Fourth of July, and a variation of LushRobe's Galia, Cumbus, Dione, and Paisley peshtemal towels would be the perfect addition for a day at the beach or pool.
Once you experience the soft touch of a peshtemal towel, you will only want to use peshtemal towels from that iconic moment onwards. Check out Tekkells' collection of peshtemal prints and colors today, and before long you'll be making up reasons for why you need more peshtemal towels.
Order Peshtemal Towels From Tekkell Today
Tekkell is a company that focuses on supplying products that are Earth-friendly; therefore, our company is extremely proud to supply LushRobe's peshtemal towels—because they're hand-made, quick drying, space conserving, and multi-purpose.
Visit Tekkell's website today to view our entire selection of LushRobe peshtemal towels. Contact us with any questions or comments by sending us an email or fill out our online contact form and we'll be in touch.
RELATED POSTS