Custom Bamboo Underwear Manufacturer for Women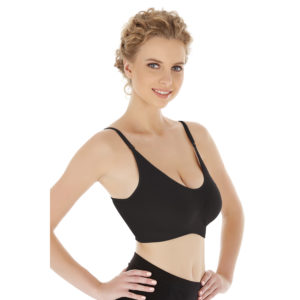 The trend of shapewear technology has evolved from a fashion accessory to a priority for most women. The reason why it's so popular is because it's not as heavy as undergarments of the past and they offer much more than compression. They're thinner, can be worn with different types of clothing, and it just works! However, it doesn't come without some problems, but first let's look at why shapewear is so popular and what some of the challenges of this underwear are.
Shapewear's Popularity
With shapewear, women can now slip into form-fitting clothing with confidence showing off an alluring silhouette that they can be proud of. What's made shapewear such a priority to a woman's outfit is its versatility. It's designed so that it can be worn under jeans and t-shirts on a daily basis, not just dresses.
The Problem with Regular Shapewear
There are hundreds of shapewear options out there for women. Through trial and error, many women have found out that some of them work and others just don't. The shapewear that does work still tends to be uncomfortable and may feel like another layer of clothing rather than a lightweight undergarment.
That's the obstacle that most shapewear manufacturers have in common. The technology is good for compression, but the type of fabric required to make it necessary is thick, heavy, and often a struggle to squeeze in to. Even though it's marketed for everyday wear, for this very reason most women prefer only to use these garments for special occasions, until now.
Introducing Urbamboo Underwear!
There is now such a thing as underwear made from the bamboo plant, and the branding experts at Tekkel have found a way to make it available to you through Urbamboo shapewear clothing.
When bamboo is harvested, it's manufactured into a fine material that can be woven into a thread that's lighter than cotton. This material woven along with elastane allows for an undergarment that is lightweight and breathable, allowing body heat to escape and air to flow through the material making it comfortable to wear under any type of clothing any time of the day or season.
The Benefits of Urbamboo Shapewear
Urbamboo's shapewear offers a fresh take on the ever-popular shapewear phenomenon offering women the lift, shape, and compression they're looking for without the uncomfortable fit of the bulky girdle. This product also provides the slimming secret that most shapewear undergarments are known for, because while bamboo fabric is lightweight, it's also known to be one of the strongest plants.
 Urbamboo is Eco-Friendly
In some indigenous areas, bamboo is used as a building material. It's also considered as one of the fastest-growing plants. This makes Urbamboo underwear the most eco-friendly shapewear product in the industry. So, whenever you choose to dispose of your Urbamboo undergarments, you can rest easy knowing that this material will break down easier than other shapewear that's primarily made of cotton.
Look smooth and trim while sustaining your environment. Wear your favorite tee and jeans comfortably and with confidence in Urbamboo's underwear and control tops. You'll even forget you're wearing it! This new technology of shapewear is a must for every woman's wardrobe.
Discover for Yourself the Feel of Bamboo Fabric
Place your order with us today. There is no minimum order. However, if you are interested in becoming a distributor of Urbamboo products we will provide consultation services that will help you assess how much inventory you need to stock for your target market. Contact us online or request a quote today!
RELATED POSTS