Order Premium Turkish Cotton Beach Towels in Bulk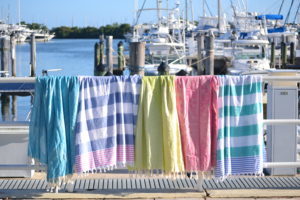 Now that warm weather is back, we have all your beach towel needs covered here at Tekkell. Our supply of Lushrobe Turkish cotton beach towels is fully stocked and we are ready to fill your order.
Luxurious 100% Cotton Towels for Hotels
The most popular hotels during the warm months are the ones at the beach and the most popular item in those hotels is the beach towel.
Our Lushrobe beach towels are hand-woven from the finest Turkish cotton to create the softest beach towels available. Our unique weaving process produces a smoother surface that outperforms terry towels in every way.
The pure peshtemal absorbs water faster than traditional towels.
The Turkish cotton dries much faster than other towels, preventing the musty odors associated with towels that remain damp throughout the day.
We offer single and double layered beach towels to suit every need.
Our Lushrobe cotton beach towels fold thinner than terry towels to save space in storage, the laundry, and even in packing.
Our eco-friendly manufacturing practices use no chemicals and fewer inks to help keep the earth green.
Our towels resist fading and pilling which saves you money by not needing to replace your stock as often.
These towels are easy to care for. Simply wash on the gentle cycle and dry on low heat.
Tekkell's Incredible Selection of Soft Cotton Towels
You are not limited in your choices. We offer all of our designs in a wide variety of colors to suit your decor. Show your patriotism with our American flag towels, choose a more subtle look with our solids, or go completely tropical with our fun pineapple design. You even have a choice of a rectangle or oval shape.
If you would like to be a bit more unique, our white label option is just what you need. You design your towels to your tastes. Pick a shape and color, then upload a clear image of your design or logo, then let us do the rest. With this option, you create your own brand like wc law firm on an exclusive premium Turkish cotton beach towel.
We Stand Behind Every Bulk Beach Towel Order
Every order you place with us comes with our 100% satisfaction guarantee. If you are not happy with your order for any reason, we will replace it or refund it, no questions asked.
We are based in South Florida and ship most orders anywhere in the U.S. in around two weeks. Customized orders will take a little longer.
Order Your Premium Turkish Cotton Beach Towels in Bulk from the Best
When you order with us at Tekkell, you order with confidence. Every time you call 305-767-4249, you speak to a consulting expert who will answer every question you may have. We do not finalize orders until we are sure we know exactly what you want.
 Contact us today to place your bulk order of the best Turkish cotton beach towels you have ever had.
RELATED POSTS