7 Things You Need to Know about Selling Wholesale Totes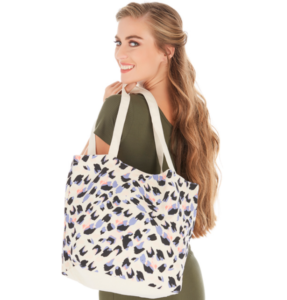 Ah, the tote bag! So versatile, so handy – you can never have too many. Many consumers have a dozen or more, and they all look different. Totes are the perfect product to sell wholesale with a custom design or logo.
Here are 7 things you need to know about selling wholesale totes.

Not all totes are created equal. Besides the obvious difference in color and style, one factor that's often overlooked is quality. If you are selling totes to be resold, or to be given away at conventions, meetings, festivals, or other gatherings, you want the totes you sell to be high quality, because that's what your customer demand.
Look for a simple design. Your tote should hold a lot, with straps that are the right length for the size of the bag. You don't need a lot of inside pockets or zippers. Consumers want to be able to load up their tote with stuff and go!
If you're printing or embroidering on the totes, pay very close attention to the fabric. You want a fabric that is heavy enough to stand up to embroidery, if that's what you're going to do with them. If you're going to print on them, you need a fabric that the ink won't bleed onto.
Once you find a supplier for your totes, fine-tune your design process. Make sure it's the best one for the type of tote you're buying. Repeat business is the holy grail of wholesaling, and your customers will only come back if you provide a professional-looking product.
Make sure they're machine-washable and dryable. A favorite tote may be washed hundreds of times during its lifetime, and it needs to stand up to all that water and detergent. A tote should look good after a couple of washings as it did when it came out of the package.
Consider how you'll package the totes you are selling. You can sell in cases of 100, polybags of 12, or anything in between. Consider what your 'sweet spot' is with respect to order size and let that be your guide. If you're targeting orders of 1500 units or more, you don't want to package your totes in bags of 12 units.
Cost may not be as important as you think. While you don't want to overpay for the totes you are going to wholesale, the cheapest supplier may not be your best bet either. Find a supplier who gives you a good value for your money, and price your totes accordingly.
For quality wholesale totes, as well as scarves, handkerchiefs, towels, shawls, blankets, and underwear, your go-to source is Tekkell. Tekkell sources products for wholesalers and retailers, specializing in sourcing for ecommerce companies. The company specializes in environmentally friendly manufacturing processes and scalability to meet customer demand. For ecommerce success, choose a manufacturing and distribution partner like Tekkell. Contact us today at 305-767-4249, or contact us online.
RELATED POSTS