Wholesale Custom Printed Towels with No Minimum Order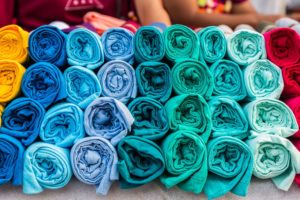 Whatever your reason for needing a custom printed towel, look no further than Tekkell. Tekkell produces a superb line of fine Peshtemal towels that are available with no minimum order necessary. There may be other towels on the market that you could purchase with no minimum order, but it is unlikely that you could find the deluxe quality of the Tekkell line of Lushrobe towels.
Tekkell's Lushrobe Line of Peshtemal Towels
The Lushrobe line of towels is Peshtemal. This is a traditional type of Turkish towel. The Peshtemal or Turkish towel may also be called Hammam and Fouta by some. The Lushrobe brand by Tekkell is manufactured in Turkey at Tekkell's company owned plant. The craftsmen use a premium Turkish cotton unique for its extra long fibers. The Peshtemal towel has signature attributes of softness, fluffiness and extra absorbency. Because the towels are made of the Turkish cotton with longer fibers, there are also fewer joins to be found in the woven material. The stronger, smoother threads of the Peshtemal towel are owed to the extra long fibers of the premium Turkish cotton.
The experience of a consumer with one of Lushrobe's Peshtemal towels is usually one of delight. The luxurious softness envelops the user of the towel while it feels lighter than the typical terry type of bath towels. The fluffiness surrounds the bather like a satiny cloud while it absorbs more water than most standard towels because of the super absorbent properties of the Lushrobe towel's cotton fibers.
It is often at a high-end or luxury hotel or spa that a consumer has their first Peshtemal towel experience. Yet surprisingly, Lushrobe's Peshtemal towels are available at affordable prices with no minimum order. Imagine being able to order such a fine towel at an affordable price for home or wholesale use!
The Lushrobe Peshtemal towel has many uses. It is just the thing for drying off after a bath or shower. The absorbent properties are second to none. The towel is a perfect wrap for pampering during spa treatments. The softness is relaxing and comforting. The towel makes a lovely poolside wrap or sarong as well. The delightful patterns and array of colors are pleasing and unique.
Customizable Printed Peshtemal Towels
Tekkell's Lushrobe brand offers completely customizable towels. Whatever logo or branding is desired can be printed on the towels for your personal custom order. A discount is available for a bulk order. Whatever personal artwork you have, whether it's a pencil sketch, painting or other design, it must be in the form of a high-resolution graphic for Tekkell's designers in Miami. Your towels can be printed to your specifications and are available in the traditional Turkish manner—printed on both sides, offered in rectangular and oval shapes and fringed.
Lushrobe Peshtemal towels have their creative conception in the fashion city of Miami, fabricated in Tekkell's personal plant in Turkey and shipped from our warehouse in Miami to any city in the United States. These luxurious towels may be purchased at excellent prices with no minimum order or at a bulk discount.
Fill your custom printed towel inventory with Lushrobe Peshtemal towels from Tekkell. Contact us online, or call us directly at 305-767-4249.
RELATED POSTS