Suppliers Of Eco Friendly Promotional Tote Bags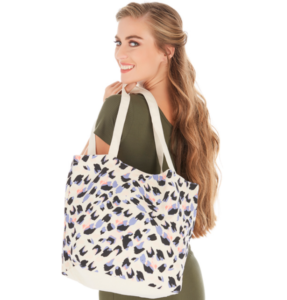 What could be better than creating customizable multi-purpose tote bags? Feeling good about making customizable multi-purpose tote bags.
There should never be guilt associated with crafting something that adds convenience and style to peoples' lives. That's why Tekkell only uses premium and environmentally friendly materials to manufacture and design our Ecolusive tote bags.
100% Cotton Tote Bags Made From Environmentally Safe Materials 
The first thing to know about Tekkells' Ecolusive tote bags is they are made from 100% natural cotton. Ecolusive tote bags are manufactured in Turkey and designed right here in Miami, Florida.
The fabrics used to manufacture Ecolusive totes are woven tightly together to prevent fraying and absolutely zero harmful chemicals are used to create these premium tote bags.
Tekkell uses 33% less ink than competitors to create the designs on our Ecolusive tote bags and the ink of the designs on our totes does not fade over time. 
Ecolusive Tote Bags are Perfect for Promoting 
Ecolusive natural toned tote bags are available for purchase on Tekkells' website in packs of 5 and 10. Tekkell offers Ecolusive tote bags at affordable prices and our team can add customized designs for no extra charge.
Tote bags are the perfect promotional swag for businesses and organizations because totes are multi-purpose. Users can bring their customized totes to the beach, store, and traveling. Plus, with the dimensions of 11"L x 6"W x 13"H, there's a lot these bags can tote.
Ecolusive totes feature a zipper pocket on the inside of the bags and feature 2 handles for easy carrying. Tekkell even includes a free carrying zipper pouch with the purchase of our Ecolusive totes, so users can conveniently store the bags when not in use. 
What Are You Waiting For? Buy Custom Ecolusive Totes Today 
Visit Tekkells' website today to see our natural toned tote bags and take a look at our selection of already designed bags as well.
If you are interested in creating customized tote bags with Tekkell, then get in touch with our team today. The only things we need from you are an image or idea of the design you want and a number for how many bags you want us to make.
To see a sample of your design on one of our natural-toned Ecolusive tote bags, ask one our team members for more information. Our team is more than willing to send you a sample image of what your customized tote bag will look like. Otherwise, you can purchase 1 tote bag for a small cost and our team will send you a real-life sample of your customized tote.
Contact Tekkell Today 
Fill out Tekkell's online contact form today or call us at 305-767-4249 if you have any questions concerning our Ecolusive tote bags. Tekkells' team looks forward to working with you to create your promotional tote bags swag. While you're on our website, be sure to take a look at our selection of Turkish towels and scarves too.
RELATED POSTS