Manufacturer of Form-Fitting Underwear for Women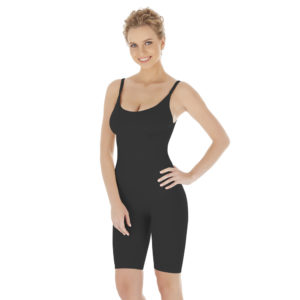 Shapewear has come a long way since your grandmother's girdle. In fact, it has come a long way since the moment when just about everyone seemed to know about Spanx and celebrities began talking openly about wearing shapewear under their designer gowns on the red carpet!
Truly, your grandmother's girdle has very little in common with what we now think of as shapewear. The girdle of the past has more in common with the corset of the even more distant past. The undergarments we now call shapewear are lighter weight, softer and definitely much more comfortable. You might not even associate the word "comfort" with old-fashioned "shapewear" at all. Shapewear, or form-fitting underwear, is something women think about, talk about, and most of all wear daily.
Shapewear Manufactured by Tekkell
Now it is possible to think of the environment while tucking in your muffin top. Tekkell makes a gorgeous line of eco-friendly shapewear called Urbamboo. Looking stunning has never been so comfy or ecologically conscious! Urbamboo achieves this by crafting the shape-shifting garments of recycled bamboo. The beautiful bamboo plant does double duty to make you look beautiful, too. The knowledge that the fibers in your undergarments will break down naturally into the earth when they no longer are functional for your body frees you from any guilt over using such a luscious lingerie product as Urbamboo.
What Urbamboo Can Do For You
Urbamboo hugs your body perfectly allowing you to slip easily into that stunning red dress or even a simple top and jeans while feeling gently, but securely tucked into the shaper. You can breath easy in any of Urbamboo's products from a tummy shaper to a full body shaper. Take confidence in knowing you're pampering yourself with the highest quality product made of the recycled bamboo plant and elastane. Available in a wide range of sizes from small to 2XL and above, most women and even some men will find a shapewear garments just perfect for their bodies. There is even a maternity line of Urbamboo!
For the consumer interested in green living, this is the perfect fit. No longer will her conscience tug at her with those pesky thoughts about what happens when she throws her tummy shaper into the trash. Thinking about those silky bamboo plant fibers woven into a sweet little piece of comfort to wear on her best days or any day will be a joy. More and more customers want the best of both worlds—the world of shapewear and the environmental world. There is no better fit for those consumers than Urbamboo shapewear.
Urbamboo for the Retail Shop– Customizable Private Label Shapewear
All of Tekkell's products are available for shipping across the U.S. from their warehouse in Miami. The same superb quality found in all of Tekkell's textile products is evident in the Urbamboo brand. Because Tekkell is a wholesale manufacturer, minimum quantities are available. If you are a retailer looking to add a lightweight, deluxe shapewear line to your inventory, look no further than Tekkell's Urbamboo. A bulk amount of the soft, eco-conscious shapewear acquired at a discount will boost sales for the brick and mortar or online retail shop.
A Tekkell consultant will answer all your questions and discuss your customized, private label order of Urbamboo shapewear for your business. Contact us online, or call us directly at 305-767-4279.
RELATED POSTS