Miami's Finest Wholesale Supplier of 100% Cotton Handkerchiefs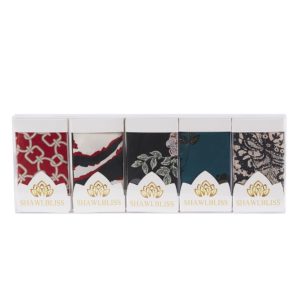 Why should you carry cotton handkerchiefs in your inventory? Think of all the moments a handkerchief would come in handy. There are emotional events like weddings, graduations, anniversaries, and birthdays when having a tissue or a hanky handy is just the thing. Tekkell's Shawlbliss handkerchiefs can help you be ready for any of these occasions.
Weddings
Create a beautiful display with flowers, jewelry, a bridal veil, and a sample hanky will show customers how they tie in. Suggest monogrammed names and date as a charming memento of the wedding, or to have handy for the occasional eye-dabbing. With Tekkell, it is easy to order monogramming on bulk purchases, just remember to expect the order to take a bit more time with monogramming.
Custom Graduation Gifts from Shawlbliss
A graduating child or grandchild would love to have these versatile reminders of the day they succeeded. Add the date and an embroidered graduation cap, and they are set for the party. Don't forget to order enough for the entire class.
Handkerchiefs in a Variety of Styles
Tekkell's Shawlbliss brand comes in a stunning array of colors and unique designs. These handkerciefs are not just for your pocket. More and more, you will see young girls wearing a handkerchief in their hair, either as a ponytail wrap or a full head cover. When the hair is down, they still do not pocket them. They wrap them around their wrist for a colorful bracelet. Now you can choose a design your daughter will love to wear with all her outfits.
Custom Handkerchiefs for Family Reunions
Promote ShawlBliss hankies as a thoughtful reminder of the big family get-together. Customers can order the family name and date as the monogram, and you can suggest they order extras in two different colors to establish teams for family games. They are also very handy in the Miami heat to keep the sweat out of your eyes.
Handkerchiefs for Arts and Crafts
Tekkell's 100% cotton handkerchiefs are known for not only their classic beauty but their strength as well. The ability of the fabric to withstand wash after wash and retain its shape has made it a popular choice for quilting. While some will cringe at the idea of cutting one of these beautiful designs, quilters are combining the prints and solids to create a stunning heirloom that will be treasured for generations.
Custom Promotional Handkerchiefs
Buying wholesale through Tekkell will allow you to build a strong partnership throughout your community with branded handkerchiefs.
Adding your own logo to the white label ShawlBliss line of handkercheifs will let you advertise your brand to your customers. Offer them as impulse buys, or give one as a thank you for a large purchase.
No matter where a ShawlBliss handkerchief ends up, it is an essential item for your shop. You can buy wholesale with confidence when you order with Tekkell. We stand behind every purchase with our guarantee of satisfaction. Based in Miami Florida, we have expert consultants ready to handle your order and give professional advice. We will even help you with your special orders should you choose to create your own design. Call today (305) 767-4249 or <a href="https://www.tekkell.com/contact-us/">contact us</a> online to learn more.
RELATED POSTS