Top Wholesale Bath Towels Supplier in Miami, Florida
Tekkell offers you a chance to replace itchy towels that fall apart easily with comfortable, soft bath towels made out of 100% pure Turkish cotton. Bath towels are must-have item for almost any retail store. Here in South Florida, Tekkell knows what goes into creating a great bath towel. We offer you affordable wholesale prices that will let you supply goods to beach goers, people visiting spas, hotels, and swimming pools.
Wholesale Prices on 100% Cotton Bath Towels
Tekkell's Lushrobe towels are made from 100% Turkish cotton, which is considered som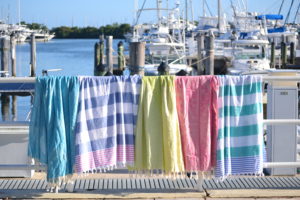 e of the finest cottons worldwide. While the fabric is heavy enough to absorb water and keep you warm and dry as you emerge from the ocean or a dip in the pool, it sheds water quickly thanks to the fast-drying knit that helps prevent mold and mildew. These towels are extremely easy to care for. They are washer and dryer safe. A delicate wash setting is recommended.
Buy Bulk Towels with Multiple Styles and Designs
Choose from a wide range of styles and designs when you buy a cotton Lushrobe towel from Tekkell. You can dry off in blue or green with a star, stripe or fractal patterned towels. We offer paisley, graphics of exotic fruits and animals, American flags, and more options. Help your customers find their towels on a crowded beach easily with these beautiful designs and patterns. Add a new level of sophistication to your hotel's bathrooms, showers, spas, pools, decks with these towels. They make ideal retail items for gift shops at beaches, parks, public pools and anywhere else where a towel may come in handy.
Perfect Towels for Gifts and Giveaways for Any Occasion
Towels make great gifts for birthdays, Christmas, and graduations. A customized full set of luxury towels in Tekkell's beautiful gift box packaging also makes an exquisite wedding present. What better way for guests, friends and families to remember you than through the soft and comforting feel of Turkish cotton? Choose from our wide range of styles to find a towel that best matches the personal style of the person to whom you are giving the gift. You can immortalize your company or event with a branded towel featuring your logo, slogan and graphic.
How to Place a Bulk Order of 100% Turkish Cotton Towels Online
Whether you are looking for your next retail item, a great party giveaway, or luxury towels you can use to stock your hotel bathroom, showers, gymnasiums, saunas and pool, Tekkell's Lushrobe line of towels can help you find what you need. Get in touch with us by calling (305) 767-4249, or you can contact us online. Our friendly experts would be happy to answer your questions about how to customize your towel, or how to determine the appropriate size of a bulk order, or anything else on your mind. Browse through our website to see pictures, prices, styles, sizes and more. We look forward to supplying you with luxury Turkish cotton bath towels.
RELATED POSTS