Turkish Cotton Bath Towel Distributor in South Florida
Here at Tekkell, our Turkish cotton bath towels are always in season, and with our low wholesale prices, you can treat your customers and clients to luxury all year long.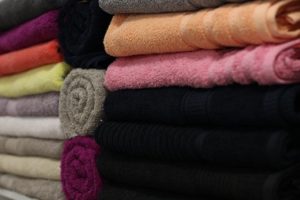 Bath Towels Made From The Finest Turkish Cotton
All of our Lushrobe bath towels are made from 100% Turkish cotton, making them the softest towels available. The particular method of weaving creates a larger and smoother surface, enhancing the softness.
We offer a choice of single-layered towels for a lightweight feel or pick our double-layered bath towels for a more luxurious feel.
The Perfect Bath Towel For Any Hotel
Based in South Florida, we understand the rigors a bath towel will go through, especially being close to a beach. Far from staying close to the bathroom, our towels will be in use most of the day. Bath towels will go to the beach, the pool and even to lunch as a cover-up. This means they are exposed to moist conditions all day resulting in that dreaded musty odor.
Our peshtemal bath towels absorb moisture better than even the plushest terry-cloth. They dry faster than terry-cloth as well, which prevents the mildew smells. This quality will save you money by lasting much longer than traditional towels. You will not need to replace our bath towels as often.
Turkish Cotton Bath Towels and the Spa Experience
The spa is the perfect place to relax. Our bath towels will enhance that tranquil ambiance. The softness of the Turkish cotton is soothing, and our towels come in a wide variety of calming pastels to match any decor or theme. When laundry time comes, simply wash our Turkish cotton towels on a gentle cycle and dry on low heat. All of our towels are fade and pill resistant making them an excellent choice when washings are more frequent than average.
Bath Towels You Can Customize
If our assortment of designs just does not work for you, take advantage of our Lushrobe white label bath towels. You can design your own colors and patterns, or upload your logo for a personalized touch. Our bath towels feature the design on both sides for added style. By opting to design your own white label towels, you create heightened brand awareness.
Bath Towels Shipped on Time
We are your Turkish cotton bath towel distributor in South Florida. We are able to ship most orders anywhere in the U.S. in about two weeks. Customized orders will take just a little longer.
Order Your Bath Towels With Confidence at Tekkell
With Tekkell on your team, you need not worry about your order. Our professional consultants will handle every detail of your order. We back all our products with our 100% satisfaction guarantee. If you are not completely happy, we will replace or refund your order. It's that simple.
We offer a very low minimum order that makes it easy to stock up on all colors and sizes.
Why wait? Try the Tekkell difference today. Contact us and let us fill your inventory with the finest Turkish cotton bath towels available.
RELATED POSTS