Premium Shawls and Scarves at Wholesale Prices
Tekkell is known for staying on top of fashion trends, and our Shawlbliss line of all season shawls and scarves are ready for anything. We would like to invite you to take a closer look.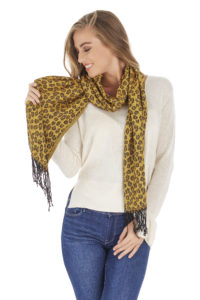 100% Pashmina Scarves and Shawls
Our handwoven Pashmina shawls and scarves are sourced directly from the manufacturer in Turkey. Made from the finest material, the Shawlbliss line will never fade or develop those unsightly pills.
Care of Pashmina is a popular selling point. Wash on a gentle cycle and allow to air-dry. The more Pashmina is washed, the softer it becomes.
Shawls and Scarves that Know No Age
Our shawls and scarves have a timeless quality. They can be seen Incorporated into every fashion genre, young and old alike. There are very few items today that can be marketed to teenagers and their parents, but our Shawlbliss line has something for everyone.
Younger girls have found exciting ways to spice up their style with our leopard prints and sparkles, while their mothers appreciate the sophistication of our solids and stripes.
Shawls and Scarves for Every Season
Rarely will you find a scarf that does not see some downtime at least part of the year. This will never be the case with our Shawlbliss four season fashion shawls and scarves. The unique weave creates a thin, silky surface that is light enough to be worn with all summer fashions without being too hot. That same weave, however, is tight enough to keep the winter winds at bay without being too bulky.
Create Your Own Original Shawls and Scarves
While we here at Tekkell offer a wide variety of designs, we also understand that our customers sometimes wish to be a bit more creative. Our Shawlbliss line is also available in a white label option. Add your own unique designs or even your company monogram for your own exclusive line that is not available anywhere else. Customization gives you the edge in sales. We help you raise your brand recognition to a whole new level.
Shawls and Scarves at the Best Wholesale Prices
With only a low minimum order, our wholesale pricing makes it easier than ever to stock up on the best quality shawls and scarves. You will want to fill your inventory with every style and color to appeal to every potential customer possible.
Not only will you enjoy our wholesale pricing, but you will appreciate the other aspects of our outstanding customer service. We treat your order as if it were our only one. Our expert consultants pay attention to the smallest details to ensure that you are happy with each and every order. We also back each order with our 100% satisfaction guarantee. If you are not pleased with your order, we will replace or refund it with no hassles.
Come to Tekkell for Your Wholesale Shawls and Scarves
From the moment you begin, you will see the Tekkell difference. Each order is personally handled. You are never funneled through an automated maze.
We operate out of South Florida and can ship most orders anywhere in the U.S. within two weeks. Customized orders take a bit longer.
Start growing your profits right now with the finest wholesale scarves and shawls available. Contact us today and let us show you how simple wholesale ordering can be.
RELATED POSTS