Natural Bamboo Maternity Tank Tops Supplier in South Florida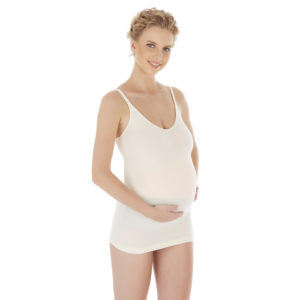 Here at Tekkell, we have built our reputation on knowing exactly what our customers want. How do we do this? We build our business with real people. Based right here in South Florida, our company focuses on the human side. We understand how difficult it can be to find maternity wear that is actually comfortable and we have set our sights on the solutions.
Maternity Tank Tops Made With Natural Bamboo
Our maternity tank tops are 85% bamboo so once your customers are finished with them, they will have the peace of mind knowing the fabric will fully break down in the environment without leaving plastics or chemicals behind like other materials will. The bamboo plants are a highly sustainable source of the material as well. Growing wild in almost any moist, rocky area, bamboo does not require fields to propagate. There is an almost endless supply every year which also makes it a very economical choice. 
Why Bamboo Maternity Tops Are The Ultimate Choice
Our unique maternity tank tops are created with a seamless design. This prevents scratching, pinching, and other irritations. The natural resiliency of bamboo gives our maternity tank tops the support your customers want.
These tops also have detachable straps for easier nursing after the big day.
Seamless & Odor-Resistant Maternity Tank Tops 
The bamboo plant possesses many surprising qualities which makes it a natural choice for clothing material. The fibers wick moisture away so even on the hottest day, the tops are still comfortable.
Bamboo has natural antimicrobial properties so no matter how much sweat is wicked away, there will be no embarrassing odors. Available in a natural nude color, there are no inks to cause any sensitivities.
The Maternity Tank Tops With a Guarantee
We stand behind all of our products with our 100% customer satisfaction guarantee. If you are not thrilled with your order for any reason, we will replace it or refund it.
Learn More From a Leading Supplier Of Sustainable Maternity Apparel
When you choose Tekkell, you are getting more than a quality product, you are getting a partner. Our team of expert consultants is standing by, ready to take your call to 305-767-4249. We will help you with any questions you may have and together we will create the best order for your needs.
We handle everything, right down to packaging and website photos. We can even help you customize your own line with our white label option. We ship all over the U.S from our South Florida warehouse in about two weeks.
Contact us today and experience the difference Tekkell can make for your business and your bottom line. Whether your shop is a physical store or an online boutique, we are there for you.
RELATED POSTS