Wholesale Custom Peshtemal Towels: The Ultimate Purchasing Guide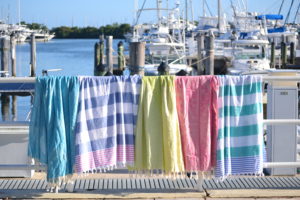 If you are in search of a reliable wholesale supplier of custom peshtemal towels, this guide will tell you everything you need to know.
What is Peshtemal?
Peshtemal is a traditional Turkish towel that has been used in Turkish baths for centuries. It is sometimes called a hamam towel, after the baths themselves. The pattern or design of peshtemal indicates the region of Turkey where it was made or purchased. Peshtemal towels have been handmade on manual looms in Turkish villages for at least 600 years.
Peshtemal towels have recently become popular in the United States and Western Europe, and are often used by high-end luxury hotels, resorts, and spas. As the word spreads, more and more people are buying them to use at home.
What Makes Peshtemal Special?
The fabric is made of 100% cotton that is woven by hand on manual looms in Turkey. A peshtemal towel feels thin, not plush, but is incredibly absorbent. It also dries very quickly, so it is convenient to use at a pool, beach, spa, or gym. It's easy to pack if you're traveling as well, and since it dries so quickly, it won't get moldy in your suitcase.
The genuine Turkish cotton is what gives peshtemal its unique qualities. The fabric that is woven from this high-quality cotton has a distinctive sheen that makes it attractive, but belies its absorbency.
The best quality peshtemal towels are handmade in Turkey from fine Turkish cotton. They come in a variety of vibrant colors that stay true even after multiple trips through the washer and dryer, although it is recommended that they be washed on the gentle cycle. They feature hand-knotted fringe on the two shorter ends of the towels.
The Best Source for Peshtemal
To find the best wholesale source for genuine peshtemal towels, make sure the towels are made in Turkey. Imitation peshtemal towels are widely available, but lack the fine detail and super absorbency of the real thing. These unique towels simply cannot be duplicated anywhere else.
Look for a supplier who can customize your order for you. This may mean creating a new color pattern or design that is unique to you, or it may mean packaging the towels specifically for you, and labeling them with your brand. Take the time to find a supplier who is able to meet all of these requirements and more. You'll want a supplier that can provide the volume you need in the timeframe you require.
If you are looking for a wholesaler or supplier to source peshtemal towels for your wholesale business or for your chain of hotels, resorts, or spas, look no further than Tekkell of Miami, Florida. Tekkell can provide peshtemal towels in any color, pattern, or size, customized specifically for your needs. The company specializes in sourcing textile products for wholesale customers and eCommerce companies. We also consult on branding and marketing.
For the very best in wholesale custom peshtemal towels, call Tekkell at 305-767-4249 or contact us online.
RELATED POSTS