5 Things You Need to Know Before Purchasing Wholesale Scarves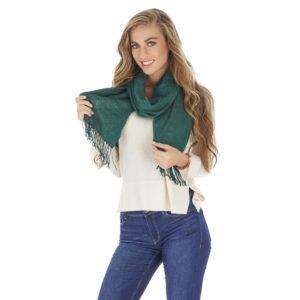 Fashion scarves can dress up any outfit, and those who know fashion know that you can never have too many of them! They are a great addition to the product mix of online and retail stores that sells clothing or accessories. They can also be sold year round.
Purchasing wholesale fashion scarves to add to your assortment is easy and will help increase your average ticket.
Here are 5 things you need to know before purchasing wholesale scarves.
1. The source matters.
Scarves can come in many different fabrics, textures, designs, and price points. If you want quality scarves at an attractive price, you will want to work with a company that can source scarves from different countries and manufacturers so that you can get exactly what you want. A wholesaler with multiple sources will also make a good partner if you decide to expand your product selection to include other items.
2. Your wholesaler can do more!
If you choose the right wholesaler, they'll be able to source quality scarves, package them in an attractive fashion, and ship them to you so they arrive at exactly the right time. Depending on the situation, they may even be able to drop ship directly to your customer.
3. Not all scarf wholesalers are alike.
Some wholesalers try to cut corners by using inferior fabrics or workmanship, or they don't offer a money back guarantee. Make sure the wholesaler you choose offers the products and terms you want at a price that is reasonable and makes sense for your business.
4. Fashion scarves can also be an impulse buy.
Merchandise your scarves accordingly in order to get customers' attention. Having a range of colors and patterns available is important. Packaging is also strategic. Scarves that are packaged properly can encourage customers to pick up more than one for themselves or even for gifts.
5. It's about more than price.
Naturally, you don't want to overpay for wholesale scarves, but the lowest price may not be the best quality. If quality is important to you – and it should be – you will want to find a wholesaler that can provide the quality that you are looking for at a an affordable price that allows you to make a profit. This is particularly important for e-commerce shops since the customer does not have the opportunity to see or touch the product before making the decision to purchase.
Tekkell Textile Wholesale Manufacturing – Your One Stop Shop
Tekkell provides wholesale scarves to brick-and-mortar and e-commerce retailers worldwide. We can provide scarves from several sources so that you can get the quantity, turnaround time, and price point you need. We can also custom package your scarves to your specifications.
Tekkell is a leading South Florida provider of wholesale scarves, tote bags, towels, shawls, blankets, handkerchiefs, underwear and much more. We also provide expert advice on branding, merchandising and marketing. For more information or for a quote on wholesale scarves, call 305-767-4249 or contact us online.
RELATED POSTS