South Florida Wholesale Scarf Manufacturer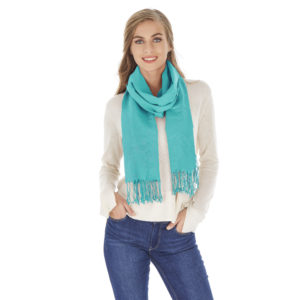 Scarves are an ideal addition to almost any product line. For clothing retailers, a scarf can be that add-on sale that brings your projected sales up to where it needs to be. If your business is accessories, scarves can be an important category to round out your offerings. If you want to bring scarves into your retail business, then you need a wholesale manufacturer that can provide the quality your customers demand at a price that's affordable for you and boosts your revenue.
Quality
Scarves are an accessory, not a necessity. So, quality counts! Look for a scarf that is made of a durable fabric and that breathes, so it keeps the wearer warm in winter but not overheated in summer. Accessory scarves should be manufactured so that it can be comfortably worn all year round. A fine fabric is essential. The scarf should feel soft to the touch and should never be itchy.
A high-quality scarf will not fade, stretch or pill after laundering. It should retain its shape and color even after multiple washings. Scarves do not need to be washed often, but the fabric should be able to stand up when laundered.
Another indicator of quality is a money back guarantee from the manufacturer. If the manufacturer doesn't stand behind their product, that should be a red flag for the retailer. Plus, if you get a product returned from your customer due to poor quality, then you want to be able to recoup your cost from the manufacturer.
Options
It's important to find a manufacturer who can offer you a variety of options in terms of color, style, and packaging. Having a wide selection of scarves available will boost your sales. However, you don't want to source them from a dozen different places. Finding a manufacturer who can provide custom designs is also a plus, as you can have them produce a scarf that is uniquely yours.
Packaging options can be important. The packaging of a scarf can convey many things, from value to fashion to originality. You may want multi-packs of scarves, or those that are pre-packaged for gift giving. Finding a supplier who can do this for you will save you a step in the process, as well as some money.
Price
If you look for a supplier of scarves based only on price, you will certainly get what you pay for. While it's important to find a manufacturer with a reasonable price, you also need to factor in the quality. A wholesaler who offers a variety of styles customization, and high quality fabrics is worth paying a little more for. Your customers know that quality is worth paying for, so paying a slightly higher price is often a good move.
Tekkell: Your One-Stop Shop for Quality Manufacturing
Finding the right combination of quality, options, and price in a wholesaler and manufacturer of scarves may seem link a tall order, but it doesn't have to be. For the best quality and variety of wholesale scarves at reasonable prices, call Tekkell at 305-767-4249 or contact us online.
RELATED POSTS