Why Should You Purchase Custom Tote Bags in Bulk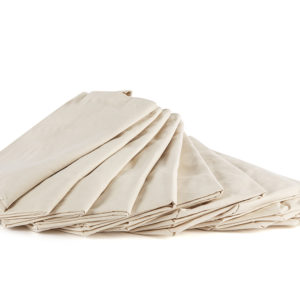 Custom tote bags make the perfect add-on sale in many stores, or can be used for promotional items. Buying custom tote bags in bulk makes sense for a lot of reasons. Here are just a few to consider.
* For Retail or E-Commerce Stores
Stock custom tote bags near your check out area and watch them fly out the door, because they're a great impulse buy. Suggest them on your checkout page and your average sale will increase.
Custom tote bags are one-size-fits-all so you don't need to stock multiple SKUs. You can carry a dozen different colors or designs cost-efficiently.
* As Promotional Items
If you are promoting a business or special event, custom tote bags make a great giveaway.
Custom tote bags can be free advertising. Printing your business logo on tote bags means that your name gets seen everywhere your bags are carried. And because they are useful and reusable, they typically get carried everywhere!
* For Conventions and Conferences
At a conference or convention, custom tote bags are handy for holding all that convention swag that people pick up. Plus, attendees are exposed to your company name long after the convention is over.
For extra exposure, stock totes with information or samples of your product, but be sure you leave room for people to use it for the other things they pick up as they visit different booths.
What to Look for in Custom Totes
When you purchase custom tote bags in bulk, make sure you're getting good quality. If you're going to sell something in your store or print your company name on it, you want it to reflect well on your brand. For that reason, use care when selecting a supplier for your custom totes.
Be sure the manufacturer uses high quality fabric. Natural fabrics wear better and look good longer than synthetics. The fabric should be the appropriate weight for the size of the tote. A large tote made out of flimsy fabric will not hold much and will soon be relegated to the back of the closet.
Look For Quality Workmanship
Seams should be reinforced and handles should be securely attached. Totes should be washable, including the printing, decoration or other customization. Totes that are well made and long lasting will promote your brand for years to come.
A quality supplier of custom totes will offer you options for packaging and shipping. You may want your totes packaged for retail sale or for shipping directly to the customer. You may want multiple totes in one package or you may want the totes drop-shipped to your corporate customer. Look for a supplier who offers many options.
Tekkell provides custom tote bags in bulk for e-commerce and brick-and-mortar shops. We also provide expert guidance on marketing and branding to make custom totes an important part of your brand identity. For more information or for a quote on custom tote bags in bulk, call 305-767-4249 or contact us online
RELATED POSTS