Buying Wholesale Tote Bags from South Florida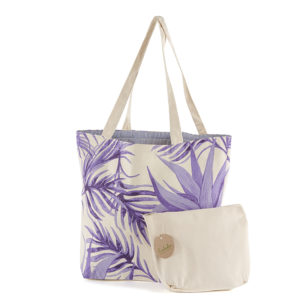 Tote bags make a great addition to the product assortment at brick and mortar or e-commerce shops. They are easy to display and are a great impulse buy. Your customers will likely want them in several different colors and designs.
Tote Bags are a Great Add On
Whether you have a clothing boutique, an accessories shop, an e-commerce shop, or a pop-up store, adding tote bags to your product mix will boost your sales. A display of tote bags near the register at your retail store, or a reminder to add a tote bag to your order on your checkout page will boost your average ticket in a hurry.
Tote bags are one-size-fits-all so you don't need to worry about stocking different sizes. You can stock assorted colors since it's possible that many customers may want to buy more than one!
Customize Your Tote!
Tote bags can be customized to your specifications, whether that means a signature color or your logo on the bag. Custom totes can be used as promotional items or giveaways for a grand opening or another event. The possibilities are nearly endless!
Be Green and Let Your Customers Know It!
The tote bags at Tekkell, a textile wholesale manufacturer, are environmentally friendly. They are sturdy, reusable, and eliminate the need for paper or plastic bags that are a danger to the environment. Throw them in the washer and dryer—on the gentle cycle, and you're ready to go again!
Our tote bags are fashionable as well as long lasting. As an eco-friendly tote, no harmful chemicals are used in its manufacturing. Our designs use 33% less ink than traditional tote bags.
Design Your Own Packaging
When you buy wholesale tote bags from South Florida, you can have them packaged any way you want. If you will display them on a rack or hanger, you can buy them in bulk. If you want to display them packaged, then they can come right from the manufacturer in your own custom packaging. You can even order multi-packs.
South Florida is a great place to source your wholesale tote bags. Floridians use these all-purpose bags for grocery shopping, to a day at the beach, or a quick weekend get-a-way. When you're minutes away from the beach, The Florida Keys, The Bahamas, and even Disney World, you can never have too many tote bags!
Tekkell provides wholesale tote bags made of 100% pure cotton in different styles and designs. Our totes include an additional zippered pouch to store smaller items inside the bag, or even to store the bag itself. The tightly woven fabric won't fray, and seams are double-stitched for durability.
Tekkell is a leading South Florida provider of wholesale tote bags, towels, scarves, shawls, blankets and much more. We also provide expert advice on branding, merchandising and marketing. For more information or for a quote on wholesale tote bags, call 305-767-4249 or contact us online to ask us any questions you may have about stocking Tekkell products today!
RELATED POSTS