Order Your Own Custom Scarves & Shawls In Bulk From Miami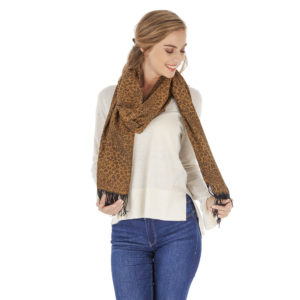 In recent years, we have seen resurgence in the popularity of scarves and shawls, two accessories we had once delegated to winter wear. While there is nothing quite as comforting as a fat, warm scarf when the icy winds blow, the scarves and shawls of today are lighter, breezier, and more colorful than ever before. Seen everywhere from beaches to restaurants, the fashion world has once again embraced these old favorites.
Express Yourself
There are several companies out there offering wholesale prices on scarves, but is it really a bulk order? If you are just getting a few cents more off per unit, you are just getting a discount, not actual wholesale pricing. Here is another drawback: they only offer their brand and designs. You would be better off driving to the nearest retail store, buying their brand, and reselling them.
Tekkell, in South Florida, is the authority on wholesale custom scarves and shawls. Yes, you read that right, custom. Tekkell gives you the freedom to flex your creative muscles with their white label line of Shawlbliss scarves and shawls. Use your own logo, create your own original, unique design, or select your favorites from their wide array of colors and designs.
Not Your Grandmother's Scarf
Scarves have made an incredible journey back into our hearts. They can be seen almost everywhere these days, and they are not just for the young.
On the beaches in South Florida, they are being worn around the hips as an attractive wrap, or in the hair as a headband to keep the hair from blowing into the face. After dark, they transition from hips and hair to shoulders, as they are used as shawls to keep the night chill at bay.
Scarves are also being used as loose cowls to accentuate an outfit or bring a touch of style to a simple jeans and boots look. The fringed ends have made them popular as an unexpected accessory: belts. Threading the scarf through the belt loops, tying it in a knot, and letting the long ends hang is the newest style. Of course, the scarf is still an all time favorite as the must have in the winter.
Invest in Quality
Tekkell understands that your order is much more than a shopping spree. You are making an investment in your business, and they are committed to protecting that investment. By sourcing only the highest-quality shawls and scarves, they make it easy for you to pass that quality on to your customers. When customers discover your uniquely designed, versatile scarves, your sales will soar. Being the only place to get your special styles, they will come back time and time again.
You will see returns on your investment in no time thanks to Tekkell's marketing and branding experts on your side.
Ordering Made Easy
Tekkell's team of experts will guide you through every step of the process. They will assist you in deciding on a style, the perfect quantity for your needs, and making sure you understand pricing and guarantees. With so many options, there is no need to look any farther for a wholesaler to fill your needs.
Contact our team today by calling us at (305) 767-4249 to order your own custom scarves and shawls, or visit Tekkell's website and see for yourself all the great choices available to you.
RELATED POSTS