Florida's Wholesale Supplier of 100% Cotton Towels | Tekkell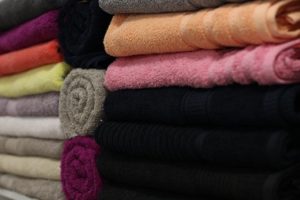 Picture yourself in an old Turkish bath. Imagine you were one of the affluent patrons. You have a semi-private room with others of your social status, and everyone has a luxurious Turkish cotton towel that is ready to be wrapped around them. Now imagine yourself today. Those exquisite peshtemals still exist, and the best places to find them used to be high-end hotels and expensive spas, until today. At Tekkell, we now bring you the softest, most absorbent, 100% Turkish cotton towels.
Classic Quality
Tekkell's Lushrobe line still uses pure Turkish cotton and makes them the same way as in the 17th century, but they are no longer just for royalty or prominent citizens. You can buy these towels wholesale and delight all of your customers from every walk of life. Select from a classic rectangle, or mix it up with an oval shape towel. Both shapes are available in a lightweight single weave, and double woven for a thicker texture. The bonus with peshtemals is that the more they are washed, the softer they become.
Add a Splash of Color
The peshtemals of old were woven in vibrant colors which were unique to each family or upper-class citizen, signifying their place in high society. All of Tekkell's peshtemal 100% cotton towels are available in an exciting variety of colors and prints, allowing you to mix and match to your heart's content. Add a pineapple oval to your rooms or a patriotic flag towel to the pool houses. However, you may even choose to order their white label line and design your unique brand with your hotel's insignia or monogram in keeping with the old traditions. Lushrobe will make your guests feel like royalty.
A Wholesaler You can Trust
At Tekkell, we have built a reputation for being the best wholesale distributor in the textile business. Taking care of our customers is our top job. With low minimums when you are bulk buying, and excellent wholesale pricing, we make it simple for you to order the finest peshtemal available online, straight out of the historical Turkish baths to your hotel, luxury is for everyone today.
Towel Know How
Based in Miami Florida, we at Tekkell understand the rigors a towel faces, especially one that is in a tourist area like Miami Beach. They have to endure harsh sunlight and coarse sand on the beach, Chlorine and rough concrete around the pool and being twisted entirely out of shape as turbans after the shower. At 700gsm, Lushrobe will stand up to the worst towel day and still come out of the laundry as good as new.
Order from the Best
Whether you pick an available design or create your own, one of our expert consultants is there for you every step of the way, helping with all the decisions from color schemes to branding and marketing. Check out our bulk buying packages. We have guarantees in place for every order to ensure your satisfaction. If you encounter an issue with your order, we will work directly with you to give you the best product you can buy. Call us (305) 767-4249 or stop by our website to set your order in motion. Your guests will be luxuriating with your unique 100% cotton peshtemals in no time.
RELATED POSTS