4 Items that Retailers Should Stock up This Fall in South Florida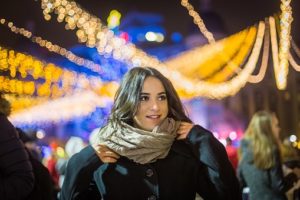 Tekkell provides scarves, blankets, towels, underwear and more to help retailers prepare for fall. Be ready for changing leaves, apple cider, pumpkin spice coffee, and blissful cooler temperatures with Tekkell's warm, comfortable garments.
When cooler weather hits South Florida, retailers can profit from stocking simple warm items like scarves and blankets from Tekkell.  Here are a few ideas to help you drive sales and gain customers.
1. Scarves: Tekkell offers Shawlbliss brand scarves to retailers. These scarves are made from 100% Turkish pashmina. Just as soft as cashmere, pashmina is more wearer friendly. Strong enough for everyday use, Shawlbliss scarves are a must in any retailer's inventory.
Shawlbliss scarves are worn by all ages in a variety of ways. From around the waist, to around the shoulders, scarves have evolved into a go-to accessory that every generation loves.

2. Blankets: Tekkell supplies Lushrobe throw blankets for any occasion. Made with the finest 100% Turkish cotton, these blankets are versatile enough to go from your fireside chair to a picnic under the stars. Lushrobe throw blankets are specially woven to be warm without the bulk of a traditional blanket. Choose double layered for extra coziness, or single weave for portability. Why be boring when you can make a statement with a beautiful round throw blanket?
3. Towels: Lushrobe towels are perfect for chilly fall weather. Your customers will be looking for a luxurious towel that is convenient to pack for weekend visits to friends and family. Lushrobe towels come in a wide variety of bold designs to fit any occasion and are made from 100% Turkish cotton. These towels become softer with use making them a customer favorite.
4.Form-fitting underwear: Urbamboo undergarments can make your customers look fantastic in their fall fashion outfits. Your customers will love how our Urbamboo supportive, natural fabric feels. Marketable to everyone, including customers with sensitive skin, Urbamboo is naturally hypoallergenic. The bamboo has antimicrobial properties as well, so this underwear will stay fresh in almost any situation.
How Tekkell Can Help Your Brand Grow
All of Tekkell's products are available with a white label option so you can market your own brand. Promote your brand with custom blankets, towels and scarves from Tekkell.
We offer a low minimum order to make filling your inventory simple. Our experts can answer your questions about price, style, fashion, and details about fabric. Tekkell is your one-stop shop for stocking up on the hottest fall trends this year. Give us a call 305-767-4249 or contact us online to learn more.
RELATED POSTS