Get Ready for Fall & Winter With The Perfect Shawls & Scarves
Tekkell offers scarves and shawls that are perfect for fall and winter. You need a quality shawl or scarf for wrapping up and staying warm as the days get colder. Tekkell's Shawlbliss scarves are perfect for cozy days of hot cider, chilly weather, and evenings by the fire. Shawlbliss scarves and shawls are fashionable, comfortable and easy to wash and dry.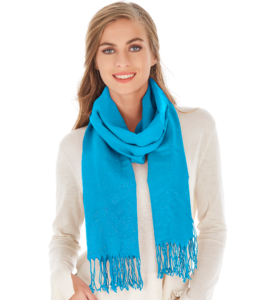 Luxury Scarves from Shawlbliss
Shawlbliss scarves are made of 100% Turkish pashmina, making them some of the softest scarves you will ever wear. Pashmina material is made from the downy, soft and insulating undercoat of Chyangra goats. When the weather turns warm and the goats shed their inner coat, it is harvested and used to create the material that gives pashmina its lightweight softness.
Pashmina scarves are woven thin to hold warmth without being bulky like yarn scarves. The thinness makes them easier to store in small spaces as well.
Shawlbliss Scarves are Versatile
Shawlbliss shawls look great with any fall or winter outfit. Stylish as a loosely draped scarf, it can quickly be converted to a fashionable belt in a flash. On a chilly evening, Shawlbliss scarves are perfect for wearing around the shoulders to keep you warm. Drape these scarves over one shoulder with both ends tucked in for an exotic look. Are you headed out to the orchard for some apple picking? Tie a Shawlbliss scarf around a jaunty ponytail and let the ends drape delicately down your back.
Tekkell has a scarf or shawl for everyone. Choose an elegant sparkling solid color for evenings on the town or a fun pattern for nights around a bonfire. Snuggle up in your favorite fireside chair with a Shawlbliss shawl around your shoulders to stay warm no matter how bad the weather is outside.
Easy-to-Care-For Shawls
Tekkell pashmina scarves require little care. Simply hand-wash in warm water with a gentle detergent and hang up to dry. Pashmina holds its shape better than traditional yarn scarves and shawls, which stretch out over time. With proper care, you can enjoy your pashmina scarf for years to come.
Branded Scarves and Shawls from Tekkell
Brand your scarves and shawls with Tekkell's white label option. Promote your brand with Shawlbliss scarves featuring your original artwork or even your business logo. Upload a clear picture of your design to our website and let us do the rest. Tekkell will provide you with a photo of the final product for your approval. While most orders will ship directly from Tekkell's warehouse in Miami, Florida in about two weeks, custom orders take a little longer.
How to Get Shawlbliss Scarves and Shawls
Tekkell takes pride in our work. We stand behind our shawls, scarves and other goods with a satisfaction guarantee. With only a minimum order and the best wholesale prices, Tekkell makes it simple for you to get ready for all the new fall fashions. Call 305-767-4249 and speak to an expert consultant, or contact us online to create your custom shawls and scarves today.
RELATED POSTS