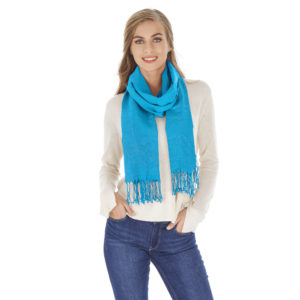 Tekkell can help your store offer quality scarves with our wholesale options. Scarves are in again and they are not just for winter anymore. Department stores and boutiques alike will appreciate Tekkell's wide selection of fashionable scarves at the best wholesale pricing in the industry. Explore Tekkell's Shawlbliss line for premium wholesale scarves.
Trendy Scarves from Shawlbliss
With Tekkell, you create the opportunity to profit from trendy scarves and shawls. Why buy wholesale fashion scarves? They never go out of style. Each year, scarves can be found everywhere you look. Young girls are tying their hair back with them and wearing them as belts with designer jeans. They also wear them as bracelets and around their ankles as a fashion statement.
They are showing up in breezy summer fashions draped loosely in long loops around the neck and draped around the shoulders to ward off a chill.You may find a sparkling solid color complimenting a ladies business suit, or a sassy leopard print being used as a cover-up on the beach. Of course, they are still found fending off a cold winter wind, worn traditionally over the head or around the neck.
Stylish Scarves and Shawls from Tekkell
Variety is the spice of fashion, and Tekkell never leaves you bored. Every department can potentially enjoy higher sales when displaying Shawlbliss scarves. These luxurious scarves are made from 100% Turkish pashmina. A fine wool similar to cashmere, pashmina is more durable and suited to day-to-day use.
Shawlbliss comes in a dazzling variety of colors and fun prints, but you are also welcome to design them with your own designs or logos. Ask about the Shawlbliss white label to market your own unique line of fashion scarves, increasing your brand recognition.
Eco-friendly Scarves and Shawls
Tekkell is a supplier that cares not just about the sale, but about you. Buying wholesale is a convenient and potentially profitable experience with Tekkell.
From your initial contact, you will see that Tekkell has a very different way of doing business. Expert consultants work with you to bring your thoughts to life. Specialists in marketing and branding help you with suggestions and ideas for getting the most out of your items.
Tekkell is unsurpassed in responsible sourcing, so you are guaranteed that each beautiful scarf is eco-friendly. Less ink is used in printing and no chemicals are used in manufacturing. This allows you to appeal to the green markets.
Improve Customer Experience with Tekkell
Tekkell's experts will help you with product placement ideas as well. Every department, every season can benefit from the sale of scarves. Displays showcasing them paired with fashions or draped attractively around a beauty gift basket are just some of the ways to increase awareness of your product and increase sales.
You appreciate the human element of Tekkell. You are more than just an order on the other side of a screen.
Quality Scarves and Shawls from Tekkell
When you buy wholesale fashion scarves from Tekkell, you have our entire staff standing behind you. We back our product with a 100% guarantee. If anything does not meet your approval, simply reach out to Tekkell. To get in touch with us, call 305-767-4249 or contact us online today to discover the only supplier you will ever need for your wholesale fashion scarves.