How to Custom Order Promotional Tote Bags for Hotels and Spas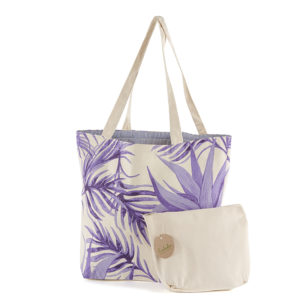 Tekkell provides promotional tote bags for your spa or hotel. A reusable bag with your logo, filled with those same samples would make a more lasting impact than the traditional paper bags. Your client goes home with your logo on their arm, and once the products have been used, they still have the tote bag to be used again and again. Have you ever been to a spa and been given a cute little paper gift bag with sample size products they sell? Yes, it was a thoughtful gesture, but other than re-gifting the bag, what use is it? Tekkell tote bags turn this moment into lasting memory.
Just how do you get these tote bags? Let Tekkell show you how easy it can be with our Ecolusive tote bags
Ecolusive Tote Bags from Tekkell
All Tekkell's tote bags are from the earth-friendly Ecolusive line. They use less ink and no chemicals in the production of these bags.
The bags can also be made to be reversible, so each tote bag is like two in one. Another option would be the inner pocket and matching zippered pouch that can be used to store the tote in when not in use.
Based in Miami Florida, Tekkell knows beach-bumming as well as beauty and style. We can help you determine how you want your clients to use our Ecolusive tote bags. If you own a spa, you may want them to try your tote bags as a cosmetic bag, or a small toiletry bag for freshening up after a workout or a beauty treatment. A hotel may want their clients to use their totes at the beach.
Promotional Tote Bags in Any Style and Size
Tekkell tote bags come in an amazing variety of designs. There are plenty of tropical designs for beach themed hotels. The playful palm frond designs are right at home on the beach and they are roomy enough to carry all your accessories.
The spa experience calls for a more serene design like a calming wave bag in a softer color to extend the peaceful vibes from the spa.
There is no better way to stay in the minds of your clients than to design your own promotional tote bags. Simply upload your design or logo with instructions of how you want it to look, then relax while Tekkell does the rest. You will even be sent a photo of the finished product so you can review it and discuss any changes that may need to be made. Choose a size from their 10"H x 9"W x 5"D small bag to the extra roomy 17"H x 19"W x 10"D extra large, but don't stop there, you can order your bags in any size you need. Special orders are welcome.
Bulk Order Tote Bags for Gifts
How many custom order promotional tote bags you want to order will depend on how you plan on using them.
A spa giving gift bags to new members may want to keep the initial order smaller. If you are thinking about just gift bags, why not consider adding larger bags to sell to clients for carrying all the essentials?
Hotels will definitely want to stock up on beach bags for all their clients. Big orders are no problem. Tekkell has reasonable bulk prices that make indulgence a good thing.
Call 305-767-4249 or contact us online and start customizing your promotional tote bags today.
RELATED POSTS