How to Style Seamless Capri Tights for Everyday Wear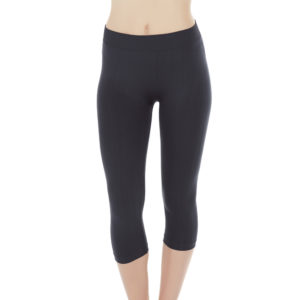 Here at Tekkell, we have the best Capri tights for you every need. Wear them for your workouts, but now you can wear them in your daily wardrobe as well.
Capri Tights Made by Urbamboo
Our Capri tights are made by Urbamboo. Made from a blend of 90% polyamide from bamboo, and 10% elastane. This unique blend makes our Capri's the softest you can buy. This softness is appreciated in the gym, but have you considered all the other ways you could wear your Capri tights?
Capri's at the Beach
Our Capri's are an excellent beach accessory. Worn with a loose top, they make a stylish bathing suit cover-up. The mid-calf style will help keep sand out of your clothes while still giving you a jaunty look. From your towel to the snack bar, you will be in style while staying comfortable. No matter where you take your Capri's, you can go in confidence. Bamboo wicks moisture so there will never be any embarrassing odors. They are hypoallergenic too, so no irritation on sensitive skin.
Capri Tights and Lazy Days
Nothing feels quite as good as having a whole day to yourself. You know the day, a day where the only expectations are feeling good in your skin. Our Mommy and me dresses Capri's are the best accessory for these lazy days. The seamless design and superior softness feel just as good as your skin. The natural elasticity of bamboo makes our tights fit snugly and give support in all the right areas.
Capri's in Fashionable Colors
Our Capri tights come in navy blue, charcoal gray and black. These are the tights you will be comfortable wearing to the store or school functions. The colors match any fashion you can imagine. From long tee's to crop tops, our tights will become a staple in your wardrobe.
Customize Our Capri's to Your Brand
We have a white label option for your brand awareness. Creating your own label will give you a line of top-quality seamless tights tights your customers will not find anywhere else. This generates sales and advertising for your business.
Order Capri's in Bulk From Tekkell
We are based in Miami Florida and we ship from our warehouse to anywhere in the U.S. in around two weeks. Of course, custom orders will take a bit more time.
We stand behind all our Capri's with our 100% satisfaction guarantee. Love them or we will refund or replace them, no questions asked.
To explore all your options, call 305-767-4249 to talk with one of our skilled consulting experts. They will help you create the perfect order for your business including sizes and colors. We also take care of packaging and photos for your website. From the first moment, we have you covered.
 Contact us today to fill your inventory with the most popular Capri tights you can find. Your customers deserve the Tekkell difference.
RELATED POSTS