Custom Women's Underwear for Retail Sale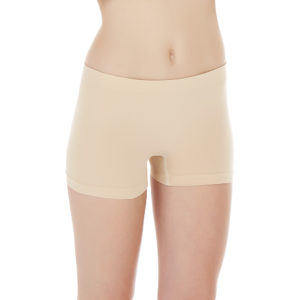 Most of your clients may be thinking about the environment these days. Even when considering clothing choices, the earth-conscious woman may want to make decisions that reflect her green living sensibilities.
Tekkell makes a lovely line of undergarments called Urbamboo. It includes an array of shapewear in sizes from small to fuller figure and maternity. This is a comfortable and beautiful underwear crafted of recycled bamboo. The lovely bamboo plant has a second life in the Urbamboo undergarments that make your customers feel and look lovely, too. The pieces are lightweight while providing support where and when necessary. The recycled bamboo products are biodegradable break back into earth.
The Beauty of Bamboo for Bodies and Your Business
Retailers are always looking for creative products that meet the needs and wishes of their clientele. Women are forever on the search for new and better lingerie. Yet, they might be sensitive to what the product is made of, and if their built for the task. Some women may want to know the source of the fibers in their underwear. You can capture a market of women who are looking for just what Urbamboo offers!
The comfort of underwear that hugs you in the right places and stays put is what most women want as they go about the day. Urbamboo is made of a blend of recycled bamboo and elastane that breathes beautifully while it stays in place. For those who want to tuck in the tummy a tad or nip the bottom a bit, the Urbamboo line has several shapewear options. Shapewear is something that almost every woman wears if not daily, at least weekly. There are several Urbamboo undergarments to choose from to build your own retail underwear inventory that will be sure to please your customers.
Urbamboo for the Retail Shop– Custom Women's Underwear
Underwear that feels like a second skin and promotes ecologically sound living is just the thing for the modern consumer. She may not want to settle for the uncomfortable panties, shapers, or tummy tighteners of the past. Underwear and shapewear should feel so good, that you forget your wearing it. That is exactly what you'll find with the Urbamboo underwear from Tekkell.
Tekkell's Urbamboo products are stocked in their U.S. warehouse in Miami. They are available to ship across the United States. The Urbamboo line is known for the same high standards of quality as all of Tekkell's textile brands. Retailers desiring to add a line of women's undergarments will end their search once they stock Urbamboo women's underwear. Whether ordering a discount in bulk or with a minimum quantity order for your boutique, Tekkell can work with you to meet your needs. Silky soft, yet earth-friendly women's undergarments and shapewear are sure to increase sales for the brick and mortar or online retail store.
Urbamboo consultants will work with you to select the right undergarments for your market and private label. Contact us online, or call us directly at 305-767-4249.
RELATED POSTS