Throw Blankets: Wholesale Distributor Of The Best Quality From Miami
Who can resist a cozy throw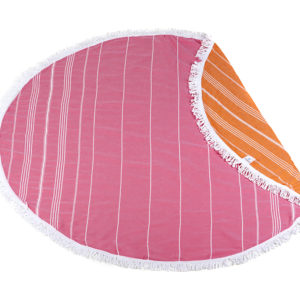 blanket on a chilly night? Is there anything better than cuddling up in a comfy chair by the fire, with a good book and your favorite blanket? Yes. Yes, there is. When you are reaching for the cocoa, make the better choice and reach for a luxurious Turkish throw blanket. These double woven, colorful, "warm fuzzy" inducing throws are always the better choice.
Top Quality
Each one of Tekkell's Lushrobe brand throw blankets is made with 100% cotton, making these the softest blankets you will curl up with. Every one of these throws is double sided, each side sporting a contrasting color, adding extra warmth along with a twist on their look. One style by day, another by night. The only trouble you will encounter while ordering will be deciding whether to choose the classic rectangle or a chic, attention-grabbing circular design.
Best Wholesale Distributor
When you think warm, comforting throws, Florida is usually not the locale that leaps to your mind, but the truth is, Tekkell is the top distributor of fine Turkish throws. Even though they are based in tropical South Florida, they have an eye for elegant, high-end quality products, and a unique intuition for comfort.
What Can They Be Used For?
The simple answer to that question is, only everything. Of course, there is the obvious, keeping warm on a chilly night, but with just a bit of imagination, your Turkish throw will become your best friend.
Cook-outs become more intimate when you fend off the night chill by using your throw as a shawl. Babies will find instant comfort on the fussiest nights when wrapped in a cloud soft throw. Did you find yourself without your yoga mat on a trip? The plushness of your Turkish blanket makes a perfect stand-in. Going on a picnic? Take your throw with you for extra comfort. Need a little support on a long car trip? Your blanket rolled up and placed on the lumbar combines heavenly support with extra soft comfort.
The possibilities are limitless.
Who Should Buy In Bulk?
Anyone with a business will see the obvious benefits of carrying these indulgent throws in their inventory and high-end establishments such as spas and hotels can also make an impression with them.
Customers will enjoy discovering an outlet for finding these coveted blankets, and with word of mouth, they can drive your sales higher than ever.
The question is, do wholesale distributors only sell to retailers? The answer is a resounding no. Anyone can buy these throws in bulk. Do you have a large family? The holidays are perfect for giving the gift of warmth. Are you expecting grandchildren or even great-grandchildren? Stocking up removes the last minute panic for baby gifts. There are so many reasons for people to buy wholesale, and Tekkell will help them all.
Tekkell has been sourcing high-quality products for years. The South Florida based company has gained respect as a top leader in the field with competitive pricing, unbeatable return policies, and outstanding customer service. With attention to detail as well as their customer needs, you will not want to go anywhere else. Call the experienced professionals from Tekkell today at (305) 767-4249 or visit our website to discover all the possibilities available to you.
RELATED POSTS