The Ultimate Cheat Sheet to Buying Wholesale Fashion Scarves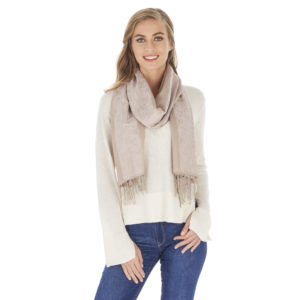 Fashion seems to change daily, but the one article that has the most staying power is the scarf. From the early days of silk and chiffon to the styles of today, the scarf is the staple of fashion. Everybody has at least one, and they are one of the most popular year-round accessory purchases. Your store will profit from stocking these in-demand items, and here is what to look for to be sure you get the best product for your customers.
Material: 100% Pashmina Cashmere
Be sure to choose a material that is soft but still wearable. Our ShawlBliss brand is made from 100% Pashmina Cashmere. They are a joy to wear when winter's winds blow and are easy to care for as well.
Styles: Multiple Colors and Prints
Inventory is king. Stocking a wide variety of colors and prints will allow you to please even the pickiest customers. Here at Tekkell, we have everything from bold stripes and flowers to a fun leopard print and glittering solids.
You even have the choice of creating your own design that your customers cannot find anywhere else. Take your pick and stock up. By carrying plenty of selections, you will see your profits rise and customers will return for more.
Target Customers: Know Your Audience
Buy to meet your client's tastes. If your clientele consists of younger women, merchandise these unique fashion scarves as cowls, belts, and shawls.
A more mature customer will appreciate them as head wraps and as a shawl on chilly nights.
Of course, everyone will still adore the classic, cozy winter scarf.
Customization: Unlimited Possibilities
Are you buying from a supplier that is limited in their stock? Do you have to pick only from their brand? Here at Tekkell, we offer a white label option so you can create your own brand. You are also able to customize your orders with your own design, logo, or monogramming.
You can also place a special monogramming order for customers, giving you even more ways to build your customer base.
Order Requirements: Don't Over-Buy
Does your supplier require a large order to qualify for the wholesale price? Here at Tekkell, we have a low minimum which allows you to stock only what you need while keeping an eye on that bottom line.
Assistance: The Best Customer Service
With several companies, your entire experience is completely online. From electronic order forms to e-mail complaint forms, your order is lost in a sea uncertainty. When there is a problem or you have questions, calling is usually met with a voicemail and unreturned calls.
We have made sure to have a world-class customer service base for Tekkell customers. Not only do you talk to a real person when you call, but they walk you through the entire process, offering expert advice on branding and marketing as well.
Guarantees: Making Sure You Are Always Satisfied
Many companies do not back the products they sell with 100% satisfaction guarantees, but here at Tekkell we do. If you are not happy for any reason, we will work with you until you are happy, no matter what that takes. We have built a reputation for putting our clients first and helping them succeed.
All of your wholesale fashion scarves are waiting for you at Tekkell. Based in Miami Florida, you will not find another company more willing to help you prosper than us. With the best in wholesale pricing, low minimums, and customization right at your fingertips, how could you possibly go wrong?
Contact us today and see how we can get you started on the road to profits.
RELATED POSTS