6 Reasons to Buy Custom Peshtemal Towels
Peshtemal Turkish towels have a long, rich tradition, and it is easy to see why. The use of these traditional towels dates back for centuries, and they are now undergoing a renaissance as spas and hotels are beginning to recognize their many benefits.
There are many reasons why you should use custom peshtemal towels in your hotel, resort or spa. Here are 6 of them.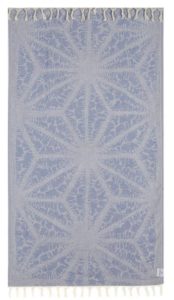 1. Handmade Towels are Incredibly Absorbent
Peshtemal towels, handmade in Turkey from 100% Turkish cotton, are thin, plush towels that absorb quicker than their terry cloth counterpart, which allows them to dry fast. If left damp, peshtemal towels will not get moldy.
2. Luxury Towels Wash and Dry Quickly
The time and energy required to dry regular plush towels is a significant expense for spas, resorts, and hotels. Peshtemal towels need less time for washing and drying, so towels are returned to service more quickly.
3. Premium Towels are Versatile and Soft 
Peshtemal towels, with their smooth finish, are soft and comfortable on the skin, even after a vigorous massage or a long day in the sun. Despite their superior absorbency, they are fragile and take up very little storage space.
4. You Can Make Peshtemal Towels Your Own
Traditionally, the pattern of a Peshtemal towel represents the town in Turkey where it is handmade. Colors and designs can be customized to make a specific towel just for your resort, hotel, or spa, which makes them uniquely yours.
5. Peshtemal Towels Make Great Souvenirs
You can sell your custom Peshtemal towels in your gift shop for guests to purchase as a reminder of their stay. With the capability to be individually packaged to your specifications, they are ready for display as soon as they arrive.
6. High-Quality and Durable Towels
They are durable and will stand up to the demands of machine washing that hotel, spa, and resort towels endure. They should, however, be washed on the delicate cycle. Through it all, their vibrant colors will not fade, they will not get out of shape, and the fringe will not separate from the towel.

Buy Peshtemal Towels Today
Use custom Peshtemal towels as the signature towel for your resort, hotel, or spa. Your guests will be amazed at how soft and luxurious they feel, and at how absorbent they are. Once your guests use one of these authentic Turkish towels, they won't want to use anything else, so be sure you have plenty on hand in your gift shop for guests to purchase.
Contact Tekkell
Tekkell provides high-quality, luxurious, custom Peshtemal towels to hotels, spas, and retailers. Our towels are handmade in Turkey and are available in a variety of colors and patterns for immediate shipment. We can also customizable for your particular needs. For more information or a quote on custom Peshtemal towels, call 305-767-4249 or contact us online.
RELATED POSTS